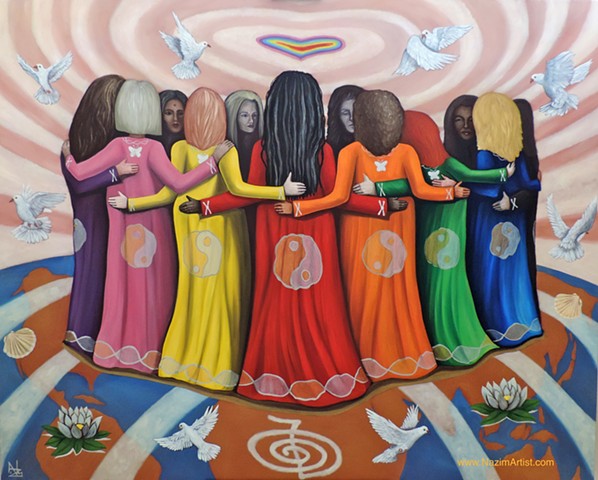 'Art is Heart & heart is LOVE' Nazim Artist
"WHAT YOU SEEK IS SEEKING YOU" Rumi
Art is my Heart, every pulse & beat stirs images to manifest a plastic reality.
Painting & drawing are my medium where the alchemy happens on canvas or paper. Here Myth, Mysticism & Metaphysics often converge within the observed or imagined world.
The Power of Art connects us like magnets to the poetics of reality that reveal & transform our nature.
The themes on my website may offer the visual affirmation you may seek and weave you into the tapestry of the eternal heart scape we might share. I invite you to enter my Multiverse.
In Oneness
Nazim
In these original paintings, there is a natural, non-toxic, environmentally
friendly, GREEN compound of minerals that produces a continuous flow of
healthy air anions or negatively charged ions, creating energized artworks.
NAZIM IS AVAILABLE FOR PRIVATE/PUBLIC COMMISIONS, FOR MURALS (with Holistic Glaze) AND LOGO DESIGN.
All artwork is available as prints and embellished canvas reproductions, with the special holistic glaze. To order contact Nazim for details.